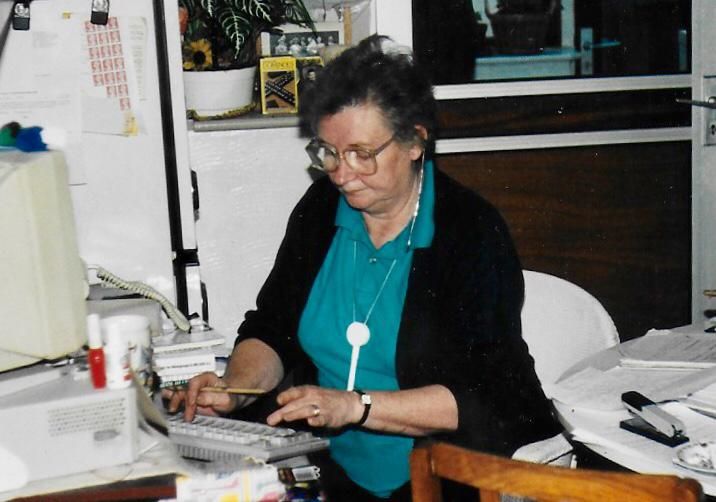 From the archives this is Audrey Watson, founder member with Joan Adcock, who worked tirelessly for the Club and who is no doubt working on Club business in this photo. Audrey's daughter Jane is in our other photo in the very successful Quadrille team who won their qualifier and came fourth at HOYS.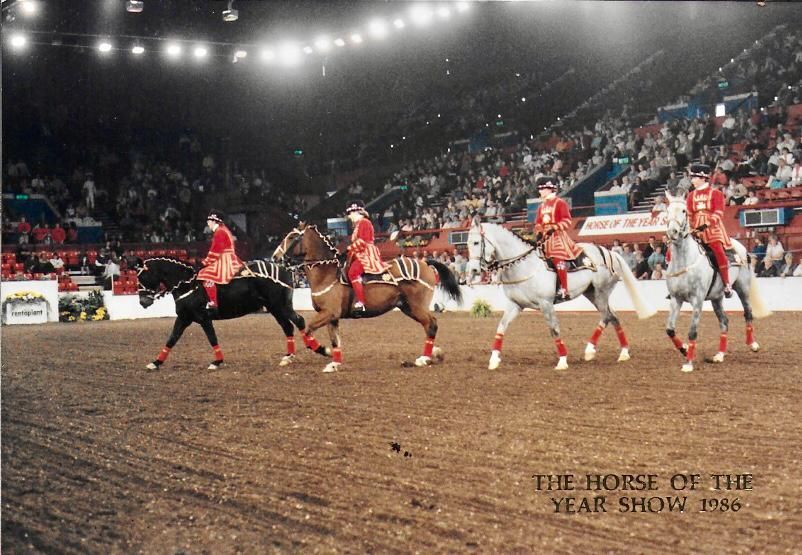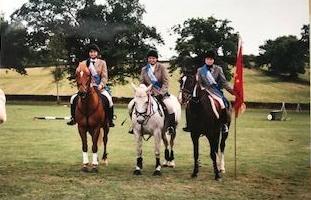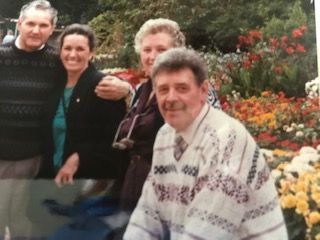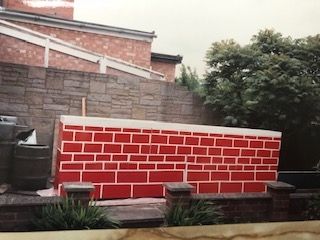 FROM THE REARSBY LODGE RIDING CLUB ARCHIVES...
Rearsby Lodge Riding Club was started by Audrey Watson and Joan Adcock in 1975 because their children could not get to Pony Club as they didn't have transport. At first it was just for instruction but progressed to show jumping and gymkhana open shows to raise funds. It was called the Pegasus Riding Club back then. Audrey devoted most of her waking hours to the Club and ensured that it became affiliated, always wanting the Club to be the best it could be. The highlights for Audrey were the Quadrille team (including her daughter Jane) winning the qualifier and representing the Club at the 1986 Horse of the Year Show at Wembley where they finished 4th. The junior show jumping team qualified for Hickstead sometime afterwards. Audrey had an air of authority but was totally approachable and will always be remembered with fondness by those members lucky enough to have been in the Club whilst she was at the helm. She managed to take the entries with a cigarette in one hand and a coffee in the other! (Memory by Jane, Audrey's daughter).
The Club's current chairman vividly recalls visiting Audrey's home where her kitchen was the buzzing Club HQ with no space whatsoever for any 'normal' kitchen activities.
Sadly in 2006, Audrey Watson passed away, leaving a tremendous legacy as well as a huge hole in the structure of the Club. A previous chairman, Becky Lawrence, remembers having the Club's photocopier delivered to her mum and dad's home, as she and her mum, Di Littlefield, had promised Audrey to make sure the Club would continue. In the years before Audrey's death, the Club had around 400 members, and Becky and Di therefore spent hours copying schedules, folding, enveloping and posting them out to every member. This gave the Club and its members the time and stability to continue to move forward, whilst building up a strong committee. The hours and hours that Audrey devoted to the Club are now distributed amongst several people (Memory by Becky Lawrence, nee Littlefield).
For the first 18 months of the life of the Club back in the 70ies we met in a Community Centre, but with the help of a local livery stables and Mrs S Northwood BHS Prelim 58 we managed to run our first instructional rally. Ten members took part! In 1977 Mr Bell of Rearsby Lodge Farm, offered the use of his land to put on our first Open Show. In 1986 Mr Bell sold Rearsby Lodge Farm and Mrs Joan Crossfield offered us one of her fields. In 1992, in order to able to extend our Dressage, we re-sited the Dressage Shows only to Streethills Farm, Lowesby by kind permission of Mr and Mrs Brett.
We catered for all interests, i.e. Show Jumping, Working Hunter, Showing, Gymkhana Games, Dressage, Dressage with Jumping, Equitation Jumping, Riding Classes, Cross Country, Hunter Trials and One Day Events.
In 1997 we were approached by Brooksby College to move the Club there, which started a new chapter for Rearsby Lodge Riding Club. Huge outdoor shows were held in the 'club field' throughout the summer and we had countless rewarding successes in local riding club qualifiers as well as at national championships.
Since then successive committees have successfully led the Club through the inevitable highs and lows of life – and long may that continue! 2020 has been a huge challenge as Covid19 hit the world and as Brooksby Melton College can no longer be used by other organisations. Finding suitable and easily accessible venues in the 'right' area is now one of the Club's main ongoing priorities. In 2025 the club will celebrate its 50th anniversary.
If any members and/or committee members past or present would like to contribute their memories to the Club's history, please email them to Kate Hill clicking the button below.